Chain Block Overload
613P – Chain block with overload protection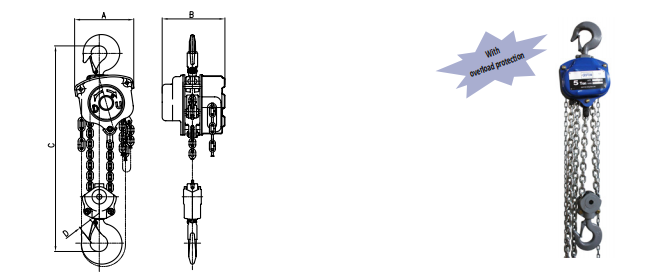 Description:
Overload protection is standard on all GRIPTON 613P series blocks and is factory set.
Compact design & light weight for ease of use
Heat treated shafts, gears, pawl & hooks for enhanced strength
Forged lifting and suspension hooks, with safety latches
CE, Serial Number, SWL & H.O.L shown on label and carton
Complete with safety overload clutch (Limiter)
The overload is integral with the hoist and prevents the operator from overloading the hoist.
When activated, the overload will not allow hoist operation. When the overload is activated, lower the load, if lifting, or release the load, if pulling. Then select a larger capacity hoist, or consult a lifting specialist for another means of operation.
Standard: EN 13157
Material: Forged alloy steel
Factor of safety: 4 to 1
Construction: Quenched & tempered
Proof load: Individually proof tested to 1.3 – 1.6 times of working load limit (hand wheel slip for
overload protection)
Finish: Powder coated